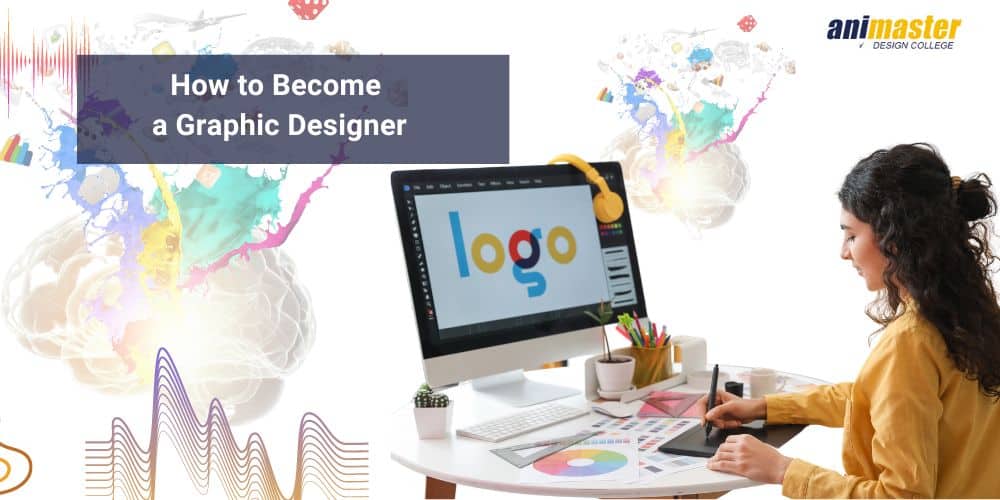 Graphic design is a field that can work for you. It is an extremely creative field that involves visual arts and visual elements, communication layouts, and typography into one. Graphic designers use their creative skills and provide visual designs that are required for their technical and artistic skills for creating designs that are visually appealing for different mediums like digital, print, or different multimedia. The work of a graphic designer plays a very big role in branding, marketing, advertising, and all other forms of visual communication.
Through the BSC Visual Communication and other courses, one can become a graphic designer.
Let's look at how to be a graphic designer and what aspects are required for it.
Key responsibilities of Graphic Design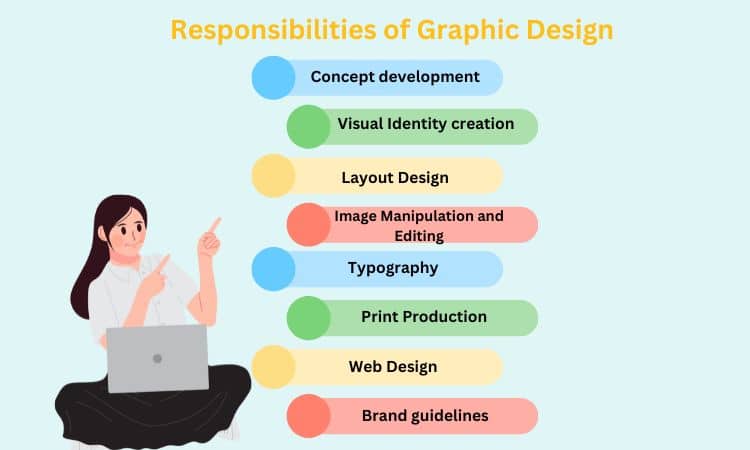 Concept development: Graphic designers generally work with the clients or with the stakeholders to understand the objectives, target audience, and what will be the desired message. They help in brainstorming ideas and at the same time align with the goals of clients to work and produce the desired results.
Visual Identity creation: Graphic designers help in providing a brand a visual identity that helps the brand with the brand identity and brand personality. They help in designing logos and typography and other color palettes that help with brand representation and its values on different levels and platforms.
Layout Design: Graphic designers provide layouts for different types of materials like brochures, websites, magazines, advertising, etc. They have the skill to create arrangements for text and visuals to create visual elements that provide a full composition.
Image Manipulation and Editing: Generally graphic designs use software like Adobe Photoshop or some other software to create or enhance images. They work with design to remove its backgrounds, retouch or add colors and create visual effects for enhancing the overall design.
Typography: An essential aspect of graphic design is that you have to choose and arrange the right fonts in a great design. Great graphic designs take in the factors like readability, legibility, and aesthetics to create designs that have great typography and have great visual appeal.
Print Production: The print production and graphic designer collaborate with each other to provide a printable design. The graphic designers understand print processes, management of colors, and file preparation to get to the final print quality of the highest standards.
Web Design: As digital media grows more and more, graphic designers are needed to work in web design. The graphic designers provide great UI and UX design for websites or for digital interfaces or digital assets for great user experiences.
Brand guidelines: Graphic designers set different types of guidelines for brands that they can use for visual consistency. This helps the brand have a consistent brand identity in all the marketing.
Skills required for graphic designers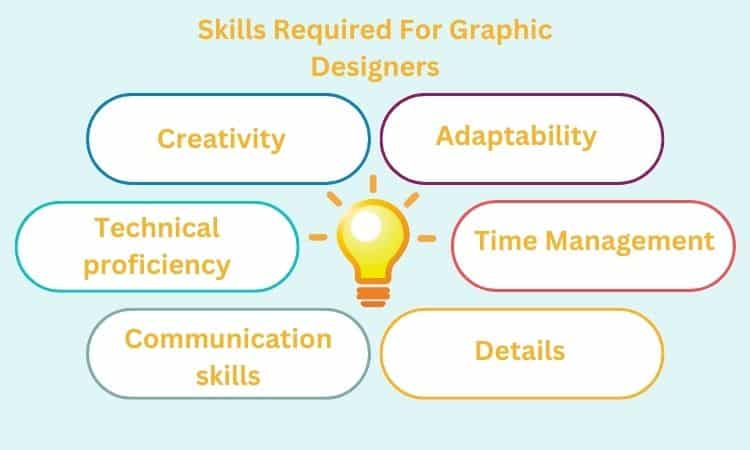 Creativity: Graphic designers have to have great levels of creativity for developing great designs that can really capture attention and communication on that.
Technical proficiency: Technical proficiency in any design software like Illustrator, Photoshop, and Indesign. Graphic design should also be almost updated with the latest technologies and tools.
Communication skills: Graphic designers have great collaborations with different people like stakeholders, clients, and other members of the team. Great communication skills help in designing concepts, requirements, and feedback.
Details: Graphic designers have a mind that they have to point out and pay attention to a single detail like the typography, color accuracy along with image quality so that the final design meets the expectations.
Time Management: Graphic designers are generally working on multiple projects with extreme deadlines. They need to have great time management for task priorities along with delivering work as per standards.
Adaptability: Graphic designers have to adapt to clients changing needs. The design can change according to the client. They have to change with the design trends and changing trends in the industry.
Education and Training
While most graphic designers somehow don't hold this degree. A degree in graphic design like Bsc visual communication, BA Visual Communication, and Bsc Viscom.
These degrees can give you an added advantage with the proper focus being done being the best graphic designer and you have the professional skill in graphic design. Many universities can provide these degrees to become professional graphic designers.
Building a portfolio
A great and well-maintained work portfolio is required to really showcase the best design skills of the graphic designer and help attract potential employers and clients.
The Portfolio should be a demonstration of handling great projects that have high creativity and technical proficiency along with the ability to problem-solving in design. This portfolio includes work projects and internships along with freelance assignments and should show your representation of all the abilities in your graphic design.
Career opportunities for Graphic designers in India
There are multiple opportunities for graphic designers in many industries like advertising, design studios, publishing houses, marketing departments, media companies, and much more.
There's also an opportunity to work as a freelancer providing their service for clients on different projects. As digital media is on the rise, the demand for graphic designers has reached high and if you are a designer then you will get great opportunities.
Software and tools used by graphic designers
There is a lot of software that the graphic designers use. Some of the mainstream software that is required for graphic design are Illustrator, InDesign, Photoshop, etc.
After the rise of remote work, many designers have generally also started using new software that is better than Adobe Photoshop and also found flexibility in working from anywhere.
How to Become a graphic designer in India
Artistic skills: Start with basic skills like painting, drawing or try to explore different art forms. The foundation will help develop a great perspective for composition and aesthetics.
Familiarity with software: You have to gain familiarity with different design software like Illustrator, Photoshop, InDesign, etc along with the new software that is coming into the market for graphic design.
Pursue Education: Enroll yourself in a proper graduation degree like BSc Visual Communication or BSC Viscom or BA Visual Communication for full skills and practical experience. These degrees are full-fledged courses that span 3 to 4 years with a proper degree from a government university.
Practical Experience: Gain great experience from doing internships or freelancing projects or start working in different design studios for a better experience in different fields of graphic designing.
Portfolio Building: Create a strong portfolio that you can showcase anywhere and have all your skills and best design traits in this portfolio.
Job Search: Start this procedure by applying to different job sectors that employ graphic designers or you can start working with a design studio if you get an opportunity and also start looking for jobs on online portals as well.
Conclusion
Graphic design is a great field that has a lot of scope for future growth and opportunity and also professionals in this field can earn a good amount if they go through a proper BSC visual communication degree or any type of full graduate degree then their chances are even higher for achieving success. With the right graphic design degree, you can be a higher earring graphic design professional in no time.