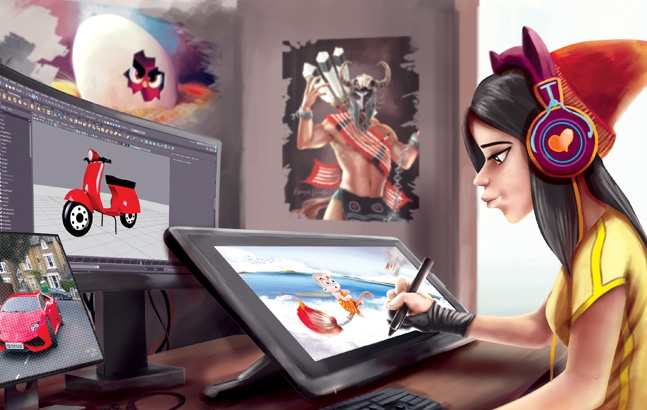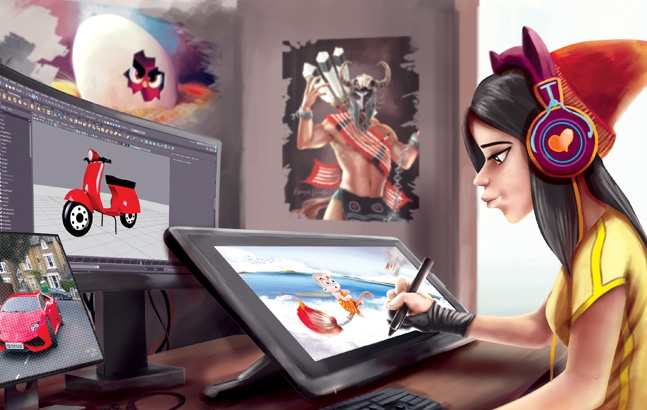 Download Diploma Prospectus
Course Objective
The 3 year, 2 year and 1 year Diploma in Animation after 10th is one of the best job-oriented courses we offer at Animaster. This course comes highly recommended by industry experts. Since it covers all the areas of animation – Traditional 2D animation, Digital 2D animation, Graphics design, 3D animation and VFX , it's a very well-rounded program. This 6-semester course opens a huge window of opportunities for jobs in the animation sector. Animation sector headhunters are keen on recruiting students who have knowledge of the various areas in animation. This can easily be achieved by pursuing this 3-year diploma in Animation & Multimedia. One can also do specialization in one particular animation field. Student may also opt to pursue 1 year (2 semesters) and 2 year (4 semesters) certificate courses, if he/she does not wish to pursue the entire 3 year program.
Eligibility
Students who have completed their 10th can opt for the Diploma in Animation and Vfx. However, the students who want to enroll in the diploma and have not yet completed their 10th can also enroll for the course, provided they sit for an online aptitude test conducted by us.
We believe in creativity and our Diploma in Animation and Multimedia , support students who have the passion to learn and explore.
The rapid advancement of technology has made animation available to the masses and has made the animation industry emerge as one of the fastest-growing industries who have valued talent over anything. The demand for animated shows is ever-expanding with the increase of cable and satellite TV coupled with the ever-growing popularity of the Internet. In the past, animated shows were aimed at children below the age of nine. However, in recent years, their aim of capturing the interest of teenagers and adults have also found great success.
Register now for our Diploma in Animation ! And enter the World of Animation, Multimedia & VFX .
Project Work And Portfolio
All the semesters in the Diploma in Animation course, culminate in a portfolio that is reflective of the skills acquired and design sensibilities achieved as a result of the Diploma program. Containing exhaustive assignments or projects is reflective of the student's effort throughout the length of the course. This will be beneficial while attending interviews to show a prospective employer your academic acumen and design prowess.
Placement Opportunities
The animation and design industry is a rewarding career since it assures 100% jobs that is satisfying both economically and intellectually. There is no dearth of jobs as animators, graphic designers, web designers, VFX artists, lighting artists, rigging artists, game designers, etc. Employment can be found in the entertainment, media, advertising, printing and other related fields. There is a need for people from all levels of expertise – beginners, as well as experienced professionals, are all welcome in this vast field. The course is structured in a way that each semester has a job oriented academic output and students can seek jobs even at the end of each semester.
The placement cell at Animaster has dedicated members who work relentlessly to find suitable jobs for all their graduating students.
Sneak Peek into the course details
Course: Diploma in Animation
Duration: 3 year diploma , 2 year certification , 1 year certification
Hours: 4 hours of intense training and practice sessions, Monday to Friday.
Modality: On-site in Bangalore
Admissions: As per batch availability
Admissions are open. Apply now!
Observations:
Face-to-face training
Individual attention and development
100% practical guidance
Teaching team formed by active professionals
Practices in production perspective
Small groups in classrooms with graphic tablets
Goals
Our goal for the students is to acquire the skills and technical knowledge and be able to carry out professional 2D and 3D animation projects successfully, after successful completion of our Diploma in animation in India. You will work and define your criteria of graphic and conceptual development, building your artistic style and personality. In this Diploma in Animation and VFX , you will work on both pre-production and production as post-production so that you internalize the work processes employed in professional studies.
Career Opportunities
There are various career avenues available to people who complete the Diploma in Animation at Animaster. Among these, television and film animation has had a constant draw, opening up opportunities for CG animators, modelers, and lighters, as well as animation directors. Web cartoons are steadily increasing in popularity, enabling artists in the field to function as web designers and manufacturers, as well as having a service or as independent consultants.
There are a list of career options you can opt for after your completion of the course.
Production manager
Production coordinator
Concept artist
Concept designer
Character designing
Prop designing
Storyboard artist
Animation director
Animation team lead
Keyframe animator
Layout designer/ artist
And the creative list goes on!
Why Animaster?
Personalised Learning
Students practice at their own pace, first filling in gaps in their understanding and then accelerating their learning.
Trusted content
Created by experts, Animaster Academy's library of trusted, standards-aligned practice and lessons covers the Diploma in Animation syllabus that helps students build a strong foundation in the field of education.
Tools to empower teachers
At Animaster Design College, teachers can identify gaps in their students' understanding, tailor instruction, and meet the needs of every student.
Hence providing them with quality education so they can excel in the industry.
So you think this is what you want to go for to have a career in animation?
Excel in the path of success with us.
Animaster school of Animation , assures you of a bright future in animation.
Join Animaster Academy today! Apply Now!