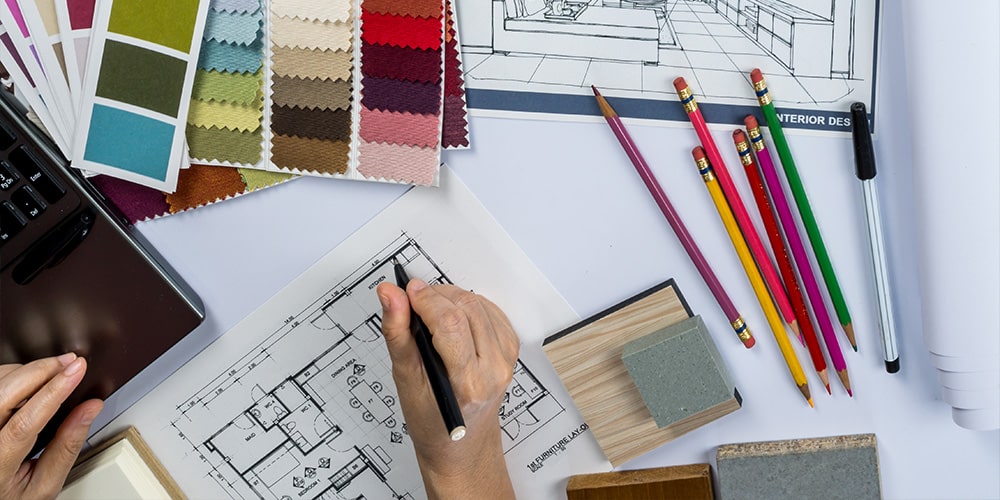 9 Steps to be a Good Interior Designer
Do you always get compliments for your taste in interior design? Do you think this is a career that suits your passion for designing? Get in touch with us. Animaster College of Animation and Design is one of the best colleges for interior and spatial design. It is one of the finest design schools of this era which is providing quality education to aspirants who are passionate about making a career in interior design.
Before making a life-changing career choice, there are a few things you need to know about the world of design. Interior designers face challenges every day; Some of these may not fit your personality, while others may get you excited and open the door to a career you never thought was possible.
Read on to learn the 9 key points you need to know to be a good interior designer.
Difference between decorators and interior designers
What is the difference between interior decorators and interior designers? In one word: training.
Literally, anyone can become an interior decorator. Someone who loves to play with colors, fabrics, and textiles can become a decorator simply by printing business cards and promoting to clients. This is not necessarily a negative aspect, but an educational background is also important. It adds value and studying BVA in Interior and Spatial Design is one of the best interior design programs available today.
On the other hand, an interior designer must have an accredited education; it is a requirement to work in the field of interior design. Do you want to pursue an education, or immediately jump into the world of decoration? Keep reading to see if studying interior design may be something that interests you.
You must have design skills
It may seem obvious, but to become an interior designer, you need to have an innate instinct for color, spatial arrangements, architecture, and textiles.
Do you like to decorate your house and get a lot of compliments on your decoration? That doesn't necessarily mean you should be an interior designer, but it's certainly a good sign. Acknowledging it at the correct time is important.
The first step to a successful career is to follow your passion. After all, doing something you love will never feel like work.
Interior design is not all fabrics and fun
While fabrics, furniture, and color can play an important role in interior design, there are many other tasks required of interior designers, many of which can seem less fun.
Interior designers need to be educated in design history, the structural integrity of buildings, building codes, ergonomics, spatial concepts, ethics, psychology, computer-aided drawing (CAD), and much more. Animaster being the best design school teaches all the software-based skills that are important for a student. Aspirants can also enroll in short-term software programs to enhance their skills in the designing field like AutoCAD, 3D max, Google Sketchup and much more.
This wide range of skills is required because designers work not only with homeowners, but also builders, architects, government agencies, and business owners. To become a successful interior designer, you need extensive education in all aspects of construction.
You need to be a social person
Ask interior designers to share their experiences, and they are sure to recount some customer stories from the past. People are picky, especially when it comes to their homes or businesses. While some clients have clear goals in mind, others may think they know what they want only to find that they hate the end product and are not satisfied with your work. A successful interior designer or decorator has to be very nice and polite to people and a reliever (and sometimes a mind reader) – someone who can steer clients toward a favorable outcome while making them feel like they're in full swing control of layout options. Interior designers are constantly balancing their design decisions and the wishes of their clients. It is not a piece of cake, but therein lies the challenge.
You need to have a portfolio
An image says a thousand words, and this is definitely true when it comes to an interior designer's portfolio. You can talk all day about colors and textiles, but unless you have a portfolio to showcase your designs and projects, your successes will be few and far between. If you are just out of school and are new to the job market, you may need to offer your services at a reduced price. This is probably the best way to get a portfolio; it's also a great way to meet local suppliers and develop a relationship for future projects. Animaster College of Animation and Design is one of the best design colleges in Bangalore. They also help you prepare portfolios that can help you stand out in the crowd. Everyone starts with some effort. Experience is a successful force in the field of interior design.
Competition is fierce in interior design
Interior design is a competitive business. The key to success is getting noticed.
Another important factor is the acquisition of a vast education. The more you know, the better you will be. Consider looking for future trends such as population growth, design for the elderly, modern architecture, and sustainable design. Education within these specific fields of design will give you an edge in the job market.
It is also a good idea to stay on top of design trends by reading design publications and websites, communicating with other designers.
When competition is high, you need to work hard in order to stand out and rise to the top. Animaster College being the best interior design college provides you both theoretical and practical knowledge that will prepare you for the future.
Online designers have a chance too
When people hire an interior designer, they may not realize that they can actually hire an interior designer even when they are in different geographical locations. Yes, designers can also work online.
Thanks to technological innovations like Skype and design software, interior designers are discovering a whole new world of virtual design.
You must know the local laws and codes
This is where designers might choose to avoid education and become decorators, thereby avoiding some of the learning difficulties of building codes and local laws.
Some of the details can certainly be boring, but they have required knowledge for interior designers.
Know the regulations reflected in the Technical Building Code. Learning about the regulations relating to sanitation, electricity, accessibility, health, etc., is more than necessary to create functional projects, in addition to having a good design.
Keeping up with such regulations gives interior designers an advantage over decorators. BVA in Interior and Spatial Design teaches an aspirant to understand the fundamentals of the subject that helps them grow better in the future.
It's not about your style, it's about your clients' style
While designers can offer their clients a wide range of design styles to choose from, it is important to remember that it is up to the clients to choose which style suits them best.
Just because designers are trained and tasteful doesn't make their choices superior to their clients. The interior designer's job is to offer a variety of styles and guide the client towards the right design choice while allowing the client to feel in control of the decisions.
For example, you can work as an interior designer for years and never design a home or business that suits your personal tastes. It's all about the clients' style and many times you have to put your own style aside.
Once you have cleared these 9 steps to become a successful interior designer and have completed the appropriate training like BVA in Interior and Spatial Design, Diploma in Interior Design, or any other short term interior design courses, the next step is to enter the world of work.