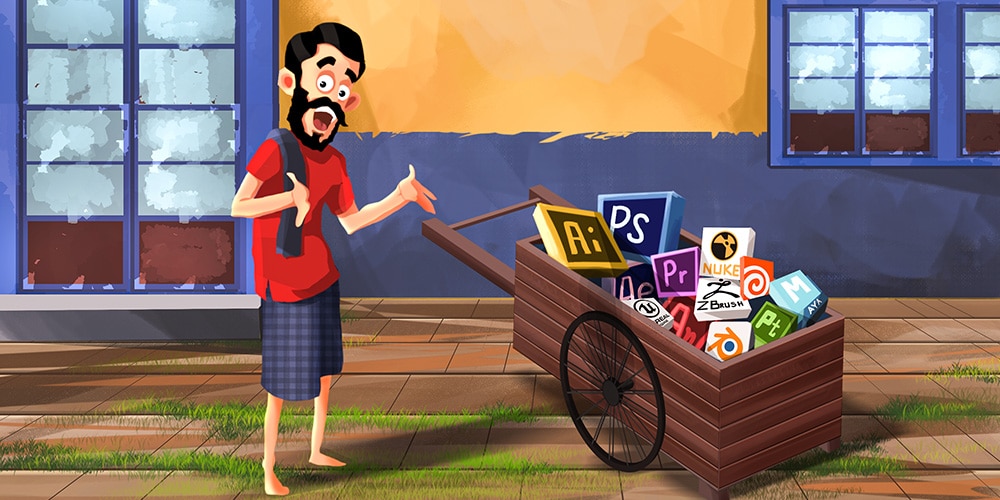 Essence of the profession
The designer is constructing. He/she creates for the customer a new world – comfortable and pleasing to the eye. He/she knows what is well constructed and what is bad. His/her main task is to transform into a client and look at the world through their eyes. Everyone expects from a designer beauty, style, lightness, sophistication. But this is a very narrow view because the designer is also thinking about functionality. Take for example in product designing, it is no longer just an aesthetic object, but a tool. If it is beautiful but inconvenient, it means that the designer has failed to do his job right. A box for storing goods should not only be beautiful and attracting attention, but also convenient for workers in the warehouse, sellers in the store and, of course, for the end-user. It should be light, signs on it – easy to read. Animaster being one of the top 10 design colleges in Bangalore, has always tried to give a clear idea about career in designing.
Will the packaging be convenient? How much space does it take in a container when transporting from another part of the world? Is it possible to save by reducing its size? Will it get wet in the rain? What is it like to put the goods into it, get it, clean it again? How expensive, environmentally friendly and technological should the material be? Is it attractive? Will it be an innovative polymer or cardboard without an image and inscriptions? Is it difficult to make packaging from such material? How much time and money will it take? These and other questions, the designer must ask. The tasks of specialists can be completely different, but the designers have one thing in common: an integrated approach to work. The designer answers a million questions, makes a lot of decisions, provides for everything. He/she will not make a good project, if the focus is only on beauty.
In an interconnected world, where technology manages all major industries, designers are the most sought-after professionals in various fields. There was never a better time for designers to demonstrate their skills and follow their hobbies through creative exits to earn big money, while at the same time making a positive contribution to the development of society. Although design creation is often used in a wider context, there are several unconventional career options for those seeking to use their design and creative skills to achieve their goalsand for this you can go for a professional Graphic Design Course in Bangalore. 
Here are the top 5 highest paid careers that are best for designers:
Video Game Designer
Video game designer likely appears like a dream job to any online game enthusiast, and if you can make it in the business, it comes with a pretty rewarding professional career path. As a videogame designer, you will be responsible for the introduction and implementation of innovative designs along with engineers, programmers and artists. Having a degree in graphics, programming, art, or another related field will assist you to become a videogame designer. A bachelor's degree or diploma in graphics art, or an associated subject is typical. Video game design is a highly aggressive and competitive field, so have to be at the peak of your game, if you need to succeed. One will require to have intense knowledge about the field as expectations are generally very high from consumers and clients. Understanding analytical, math, object-oriented programming is a must.
According to PayScale, the average salary for a videogame designer is $60,013 per year, with a reported salary range of $36,201 to $99,576. The best BSc animation and VFX colleges in Bangalore can help you in getting a high package job easily.
These fields include studying movement, interesting facial expressions, unique ideas, one needs to figure out how to replicate them, explain them. A 3D Designer is likely to design or create design of objects in the form of a three-dimensional representation using the software. These are used in many industries: healthcare, web design, research, automotive, games, space exploration and much more. A 3D designer must have technical knowledge in the field of writing code or software, as well as have an artistic talent for creative thinking and ability to use the most advanced tools to recreate his ideas in real design. 3D Designers are in great demand in industries such as web design, robotics and healthcare, where their talents and contributions can have a greater impact on social welfare.
According to PayScale, the average salary for an animator is $50,680, with an average salary range of $31,937 to $82,072 per year.
Interior designer
If your talents are designing spaces for optimal utility without compromising aesthetics, interior design can be a great career choice to leverage your creativity. The main responsibility of an interior designer is to create beautifully designed interiors that are safe, functional and useful for its inhabitants. Interior design is a complex subject requiring extensive knowledge of building codes, rules, careful planning and thoughtful implementation of ideas. Nevertheless, interior design is also one of the most profitable career decisions on the market, especially due to population growth and the ever-growing demand for improved living and working spaces.
According to PayScale, the average salary for an interior designer is $49,178, with an average salary range of $27,970 to $70,032 per year.
UX Designer
We all love how functional and appealing our web, mobile, and desktop are, but people outside of the industry may not understand or realize how much effort goes in for implementing it. User Experience Design (UX design) is a process that involves conceptualizing a product, integrating it with the design process, evaluating user experience and the actual branding that is associated with it. UX designers have a wide range of responsibilities because they are ultimately responsible for the success or failure of a product or service in the market. UX designer needs to have a clear plan to create a better user experience. He/she must understand the concept from the user and have a unique understanding of what, why and how the product meets the demand of an individual user. A career in UX design is suitable for people who love technology. It is also a field that includes extensive research in human psychology.
According to PayScale, the average salary for a user experience designer is $72,886 per year, with a reported salary range of $48,593 to $103,650.
UI Designer
A user interface designer (UI Design) makes sure that the user experience on desktop, mobile, or the web is seamless and functional. Unlike a user experience designer, a user interface designer needs experience in programming and software development for desktop, mobile, and the web. The main responsibilities of a user interface designer are to develop and create a usable and attractive user interface. You will also be responsible for testing out the design for usability as well as researching trends to ensure you create a finished product that both the end-user and your client will want to use.
According to PayScale, the average salary for a user interface designer is $68,362 per year, with a reported salary range of $42,678 to $100,821 per year.
Digital Product Designer
Everything is online these days: from your daily groceries to luxury items, digital products have a huge impact on our expenses. Therefore, digital product designers play a huge role in replication of real products in the digital sphere, which requires a high level of creativity, programming knowledge and talent to understand the atmosphere of online users. Digital product design may also include 3D design, but product designers are more concerned about how they can reach a larger audience through their online presence. Thus, a career in this direction will require a person to have a deeper understanding of the market, do thorough research ,have extensive product knowledge and understand the general tastes of customers. A product designer must Learn Graphic Design so as to become a master in product designing. 
According to PayScale, the average salary for a product designer is $76,081 per year, with a reported salary range of $43,988 to $122,267.
The path to a lucrative career as a designer
Many areas can greatly help beginners who want to succeed in the design industry. Although most design-oriented professions require a university degree  Bsc visual communication or, at least, a specialization course, some design jobs require only software knowledge or programming skills, with little creative potential.
The growing demand for designers is undoubtedly a good indicator that indicates a profitable career choice, but you also need to be aware of the latest market trends and technological advances. To succeed in any field, you must stay abreast of the latest developments in the market, especially in such a high-tech industry as design, where software, technology, experience, and other components are changing rapidly. Your Animaster is a professional and the best Best Animation College in Bangalore that can lead your career to a new height. 
FAQs
Ques: What is the work of a UI and UX Designer?
Ans- The major work of a UI and UX designer is to create interface and design for different platforms like Apps, websites and other interactive digital media.
Ques: Is product designing a good career option?
Ans- With the increase in the usage of digital platforms, more people are using platforms for shopping purposes and in this case the role of a product designer increases. So, product designing is a very good option.
Ques: WHat is the growth of Video game designer?
Ans- The gaming industry is growing very fastly in the world so as the demand for a video game designer is also increasing.