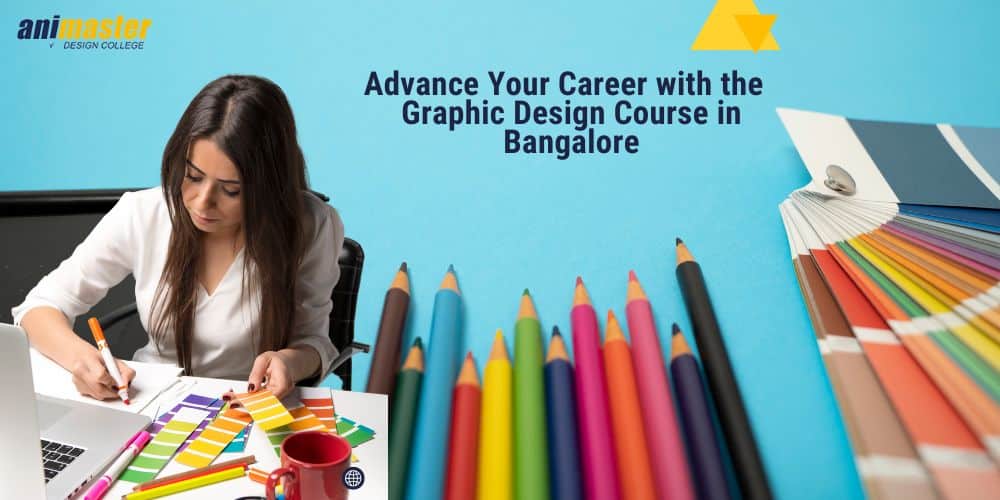 Advance Your Career with the Most Up-to-Date Graphic Design Course in Bangalore
Today with the rise in the digital world the demand for creative graphics has been increasing. Many students in Bangalore are planning to learn graphic design to enter this industry. Graphic design course isn't only a course but necessary in the current digitally-driven era. It serves as crucial to grabbing attention, effectively conveying a message, and leaving a lasting impression. In a world where websites, announcements, packaging, and social media dominate our daily lives, compelling graphics are all you need. Pursuing a career in graphic design can be both fulfilling and financially satisfying, especially if you have a keen eye for aesthetics and a passion for unleashing your creativity.  Look for a college that offers a professional Graphic Design Course in Bangalore to boost your career in this ever growing field. 
Still, staying ahead of the competition has become the need of the hour. That is where enrolling in the most recent and up-to-date graphic design course in Bangalore can help you gain a competitive edge. By embracing the latest trends and design principles taught in this course, you can position yourself as a sought-after professional who can navigate the ever-evolving field of graphic design with confidence and success.
The Importance of Graphic Design in Today's Digital World
Making something visually appealing is only one aspect of graphic design. It involves using graphics to communicate in a meaningful and effective way.
Graphic design has the ability to leave a lasting impact and instantly communicate messages in a social media-dominated world where attention spans are shorter than ever.
Graphic design course is the driving force behind effective marketing campaigns, websites, and goods, from communicating brand values to boosting the user experience. The best BSc animation and VFX colleges in Bangalore focus on enhancing your knowledge and will help you to grow in this digital era. 
It makes companies stand out in a congested market and establishes a closer connection with their target consumer.
Gaining proficiency in graphic design transforms you into a storyteller with the ability to engage, motivate, and persuade through images. and this can be achieved by enrolling for Bsc visual communication course in Bangalore.
The Growing Demand for Skilled Graphic Designers
The demand for qualified graphic designers has increased dramatically as a result of our growing reliance on digital media. Companies from many sectors are on the lookout for talented people who can turn their concepts into impressive and saleable images.
Graphic designers are essential in today's business environment, whether they are building visually attractive websites, interesting social media visuals, or eye-catching logos. As technology progresses, so do the demands placed on graphic designers.
Employers look for professionals who are skilled in the newest technologies and techniques in addition to having a solid foundation in design concepts. You establish yourself as a valuable asset in the job market by staying current with trends and developing your skills through graphic design training.
Understanding the Benefits of a Graphic Design Course
Numerous advantages of taking a graphic design degree might significantly improve your employment possibilities. In the beginning, it offers you an organized learning environment where you can study in-depth information on design principles, color theory, typography, and layout composition. You may hone your abilities and develop a sharp eye for detail by taking advice from professionals in the field and getting helpful criticism. Even a best Animation College in Bangalore can be of great help to boost your confidence and help your growth in this industry.
A graphic design training course will also introduce you to the most recent applications and software, including Adobe Photoshop, Illustrator, and InDesign. Knowing how to use these tools offers you a competitive advantage and makes it possible for you to create designs of a high caliber. Furthermore, a graphic design course from a BSc animation college in Bangalore often includes practical assignments and projects, allowing you to build a strong portfolio that showcases your abilities to potential employers or clients. Whether you are a beginner looking to enter the field or a seasoned professional aiming to upgrade your skills, a graphic design course equips you with the necessary knowledge and expertise to excel in your career.
Choosing the Right Graphic Design Course in Bangalore
To choose a graphic design course in Bangalore for your job progress, it's important to take into account a number of factors. Find a course with a thorough curriculum that covers design ideas, software, and skill-based teaching. Check whether the course offers real-world analytics and hands-on practical exposure to give you practical experience. Check the trainer's credentials and areas of specialization as well to be sure they've got applicable experience and can offer professional classes. By precisely assessing these aspects, you can choose a graphic design institute in Bangalore that aligns with your requirements and maximizes your proficiency in the field of graphic design.
Exploring the Latest Trends in Graphic Design
Knowing the most recent trends in graphic design and incorporating them into your work are essential if you want to stay ahead in the competitive field of graphic design. Minimalism is one notable style where clear and straightforward designs will be required, enabling simple readability and an emphasis on crucial features. The use of strong, pictorial colors to produce important visual content is another trend. As they give the design an interactive and dynamic appearance.
As people access the internet via mobile, it has also become pivotal to include responsive design principles. Also, in today's conscious world, incorporating sustainable and eco-friendly design practices is becoming more and more pivotal. By staying up-to-date with these trends and incorporating them into your designs, you demonstrate your capability to produce contemporary and visually charming work that resonates with your target followership.
Networking and Career Opportunities in Bangalore
Bangalore, aka "India's Silicon Valley," is a vibrant center for technology and design. By enrolling in a graphic design program in Bangalore, you can connect with design workrooms, professional advertising companies, and businesses in the megacity, as they are always looking for talented graphic designers. Attend skill-based workshops, and design conferences to network with specialists in the sector. Building connections with people who share your interests will offer you chances for mentoring, career referrals, and collaboration. Bangalore also provides a thriving freelance career where you can showcase your skills and work with people from different sectors. Whether you aspire to work for a company or start your own venture, the openings in Bangalore are abundant, and by immersing yourself in the graphic design community, you increase your chances of success.
Conclusion
In conclusion, starting a career in graphic design can fully transform your professional life. It's impossible to exaggerate the value of graphic design in today's digital world. It's now a pivotal instrument for stoner experience, brand identification, and effective communication. Enrolling in the most recent graphic design program in Bangalore will give you the information that you need to succeed in this business oriented world.
The time is now to move on with your graphic design career. By enrolling in a professional graphic design college in Bangalore, such as Animaster, you can develop both your technical and creative skills while networking and uniting with assistance professionals. Success in the field of graphic design relies on staying up-to-date with trends and styles.
With Animaster, the best BA Visual Communication college in Bangalore you gain access to the professional world that keeps pace with career advancements. They offer the most applicable training and knowledge to thrive in this dynamic field. Do not miss this opportunity to elevate your graphic design career and unleash your potential for success.
So, are you ready to explore your creativity, make a statement with your work, and make an intriguing graphic design career? Enroll in Bangalore's most advanced graphic design program to start your journey of development, education, and endless possibilities.
FAQs
a) What are the prerequisites for enrolling in a graphic design course in Bangalore? 
Although there are not any mandatory conditions for enrolling in a graphic design course in Bangalore, having an abecedarian knowledge of design principles, moxie with design tools, and a love of creativity can all significantly ameliorate your literacy experience. Still, you may rest confident that graphic design classes offer a friendly terrain for scholars of all skill levels, from beginners to seasoned controversy. 
b) How long does it generally take to complete a graphic design course?
A graphic design course's length might vary depending on the program and the  quantum of material it covers. An instrument program generally takes many months to complete and gives you the abecedarian design capabilities you need. A degree program, on the other hand, may last many years and give a thorough education that covers advanced design principles, artificial practices, and hands- on  design work.
c) Are there any specific software or tools that students will learn during the course?
Yes, most graphic design courses in Bangalore cover a variety of widely used programs and equipment. Popular software programs like Adobe Photoshop, Illustrator, and InDesign are frequently covered in the curriculum, along with other pertinent tools. These programs are necessary for producing, editing, and modifying visuals since they let you express your ideas and create designs that are of a high caliber and adhere to industry standards.