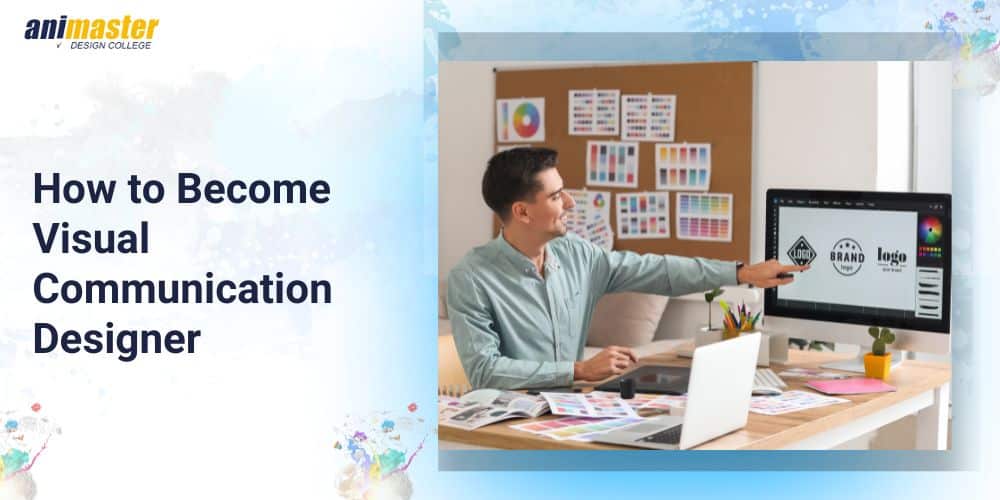 Enhancing a digital product's visual appeal and usefulness is the main goal of visual design. It involves the thoughtful application of graphics, hues, fonts, and layouts. Graphic designers that specialise in using different software programmes and design tools to create 2D and 3D graphics, websites, banners, posters, books, pamphlets, magazines, animation, motion graphics (used in movies), video films, etc. are known as visual communications designers.
Various software programme and design tools are used in visual communication designer's creations. He or she is the design expert who creates and designs graphics for print and electronic media, as well as visual effects. Thus, a job as a visual communicator designer gives applicants the chance to work for firms involved in publications, marketing, and advertising.
Whether your interests lie in graphic design, web design, user experience (UX) design, or any other field within the field of visual communication, this will guide you through the required steps to become a great visual communication designer.
Recognise a Visual Communication Designer's Role:
Understanding the function and duties of the profession is essential before beginning a career in visual communication design. The creation of visual content for various uses, including branding, marketing, advertising, user interfaces, publications, and more, falls under the purview of visual communication designers. They expertly combine technical knowledge with artistic flair to convey difficult information in a visually arresting and persuasive way. Visual communication designers must be proficient in design concepts, colour theory, typography, composition, and a variety of design applications in order to succeed in their area.
Develop the necessary abilities.
An essential part of a visual designer's job is creativity. You must be able to plan out how to employ font, lines, colour, and white space. To produce brand imagery, visual designers frequently collaborate closely with businesses and design teams, therefore they also need to be fluent in both written and spoken communication.
Try out many mediums to discover your artistic voice and sharpen your aesthetic sense. To expand your creative horizons, get inspiration from modern design trends, art history, and your surroundings.
Discover Educational Options
Bangalore is a great place to obtain a degree in visual communication design because of its famous vibrant educational landscape and creative environment. Spend some time investigating the many bsc visual communication in bangalore being offered by colleges and institutions. Look for organisations that have a proven track record of providing thorough and practical instruction in this area. A comprehensive search will assist you in locating the educational programmes that are most appropriate for developing your creative abilities and launching a successful career in visual communication design.
Look for Career Possibilities:
After completing your ba visual communication in bangalore, take the initiative to look into job prospects in Bangalore's burgeoning creative sectors. Graphic designers, UI/UX designers, multimedia specialists, animators, and other positions are among the many that visual communication designers can pursue.
It's a good idea to complete at least do one internship while you're in college to learn how to use your knowledge in a work environment. Internships are often sought out in the summers between semesters, though you can also finish one after high school or college. You can arrange an internship with a business that has a partnership with your school by working with a student adviser. You can get in touch with individual companies directly to inquire about internship opportunities if you have a particular interest in one or two of them.
Apply for appropriate jobs, go to job fairs, and take part in design-specific hiring events on your own initiative. You can improve your chances of landing a satisfying and gratifying job in Bangalore's dynamic visual communication design industry by actively looking for possibilities and exhibiting your abilities and portfolio.
Create a solid portfolio.
Develop and enhance your portfolio as your career in visual communication design progresses. Make sure to showcase your best and most recent work to show how your professional development has progressed. A strong portfolio that shows potential employers your creative skills and promise is necessary if you want to have a chance of landing a job in the future. Being productive in the competitive job market will show how committed you are to your work as well as how regularly you update and improve your portfolio.
Keep growing and learning.
Success as a visual communication designer depends on maintaining an attitude of ongoing learning and development. The industry is always changing due to new trends, technologies, and processes. Designers must embrace lifelong learning if they want to stay current and ahead of the curve. This entails developing abilities, experimenting with novel ideas, and overcoming obstacles. As a tool for improving oneself and one's career, constructive criticism should be appreciated.
Accepting change and having a quest for education encourages uniqueness and creativity, which results in more powerful visual communication. Whether through formal education, online courses, workshops, or self-directed study, those who want to succeed in this sector must relentlessly pursue information. Designers are better equipped to exploit rare opportunities and advance their artistic prowess with each new skill they learn and challenge they conquer.
Gain experience in the real world and keep up with industry trends.
To become a superb visual communicator, you must get practical experience and stay up to date with industry trends. Relying solely on academic knowledge is insufficient; in order to enhance your skills and understand the intricacies of the subject, application and real-world experience are crucial. You can employ your creative talents in practical settings while building a strong portfolio and learning about the business side of visual communication design by looking for internships, temporary jobs, or freelancing work.
In the always changing field of visual communication design, it is crucial to stay educated about the most recent technology and business trends. Keep up with the most recent developments in technology, graphics, and visual storytelling in order to remain relevant and competitive in the market. You may stay on top of trends by taking part in design workshops, networking events, conferences, and conversations with industry professionals.
Conclusion
Enhancing a digital product's visual appeal and usefulness is the main goal of visual design. It involves the thoughtful application of graphics, hues, fonts, and layouts. Although a lot of visual design components are concerned with how a product looks, the feel of the product is just as crucial. The creation of an interface that offers consumers the best experience is the aim of visual design.
Technical expertise, creativity, lifelong learning, and practical experience are just a few of the many skills that a great visual communicator should possess. Maintaining a current knowledge of the graphic design field allows you to educate yourself on the newest trends and technology while showcasing your competence to companies. You can subscribe to relevant blogs and YouTube channels, follow industry professionals on social media, and more.
FAQs
Ques: What professions are open to those with a talent for visual communication?
Ans: Among the many job options open to those who communicate visually include animation, multimedia, user experience (UX) design, and graphic design.
Ques: How can I improve my abilities as a visual communicator in real-world situations and earn real-world experience?
Ans: You can work as a freelancer, intern, or in a temporary role to hone your talents as a visual communicator, allowing you to put your ideas to use on actual projects.
Ques: Why is Bangalore a fantastic location to learn visual communication design?
Ans: Bangalore is an excellent place to obtain a degree in visual communication design due to its dynamic educational scene and creative environment.
Ques: What is a visual communication designer's job description?
Ans: Visual communication designers are in charge of producing visual content for a range of uses, including publications, user interfaces, marketing, and more. They communicate difficult information in persuasive and visually appealing ways by combining their technical expertise and artistic talent.
Ques: What ought to be in a portfolio for a visual communicator?
Ans: A strong portfolio should highlight your best and most current work while also showcasing your creative abilities and long-term professional growth.