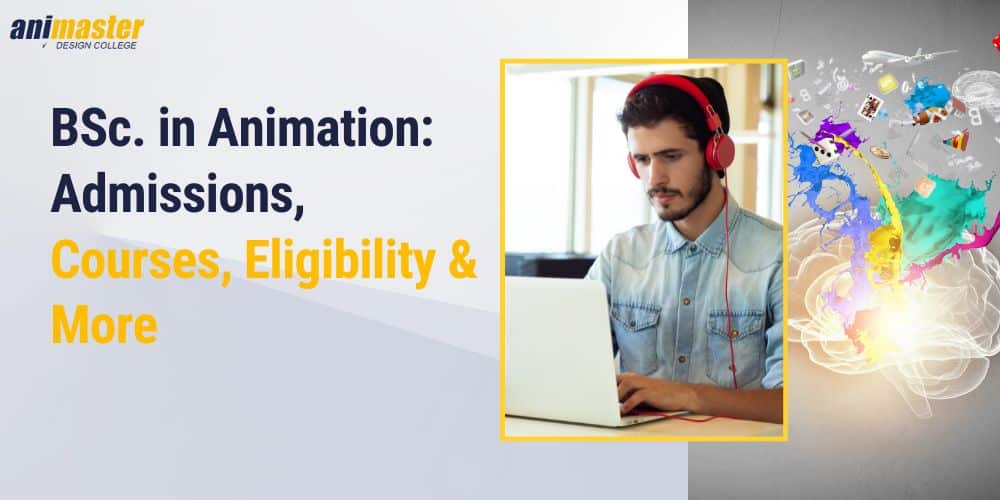 Animation – Admissions 2023, Courses, Eligibility, Exams, Syllabus & Career Scope
Do you like animated shows or animated videos or movies? Do you like to create different types of visuals and different characters that will be animated and create a great presence of animation for you or want to create the visual effects? What if you want to turn that passion directly into your profession and especially make a mark with that animation? If the answer is a big Yes, then BSC animation and VFX is a great opportunity for you and you are at the right place as we will be discussing the full information regarding the animation course in Bangalore.
What is Animation?
So, you must be asking What animation is, and why it matters? So, Animation is the art of creating a movement in an illusionary nature using a set of images or a combination of different frames. Animation today can be done by different types of methods like using hands, using a computer to create animation, and also by physical object manipulation. Animation can be done for the purpose of animation, education, websites, advertisements, or video games also.
Some examples of different kinds of animated movies are Toy Story, Lion King, The Simpsons, and many more. Then the VFX is also involved in it and so you have to know what is VFX?
What is VFX?
VFX is a form of graphics that are generated on a computer, particularly images that are generated on the computer. These footage or images then can be added to films etc. VFX or visual effects are done to make the image as real as it can be to make realistic imagery if done in real life can be very expensive, impossible, directly dangerous, time-consuming, or extremely expensive, or just purely impossible to create through normal video shoots.
More than a passion
Animation & VFX can become more than just a pastime and it can fully evolve into a full-time career with lucrative opportunities and great career options. It can open a whole new world of opportunities for you. 
This can really bring movement and aliveness to the images and can be used for different aspects like education, entertainment, gaming, advertising, and gaming and also for visual arts. It can be a very dynamic field as well can be very engaging too which can help in providing great career opportunities. 
So, how can you apply for the best animation courses and how can you do it in a way where it can be a full degree and a true future safety in animation for your career. Let's look at the most important course in animation that you can do in it.
Animation – Admissions 2023, Courses, Eligibility, Exams, Syllabus & Career Scope
So, let's discuss the different courses in animation and what is the main course that you can do to really make a career in animation in Bangalore.
The main courses that you can look into animation are BVA to diploma in animation but the one course that is a special focus and helps you in getting great opportunities is to pursue BSC in Animation or Bachelor of Science in Animation(BSc).
These are also the top courses that you can follow for animation degree in Bangalore: 
Bsc visual communication
Bsc Viscom
If you are searching for an animation course in Bangalore then you will get the full details for the animation course in this blog only.
Animation course in Bangalore
Here is a list of all the full syllabi and course structure of the BSC in animation course from the most prestigious college. This will provide all the course structure for it:
The animation college in Bangalore will provide the full course structure that you have to follow.
BSc in Animation Course Duration
The BSc under the animation course from the bsc animation and vfx colleges in Bangalore is a set course designed for 4 years. It will be a full-time program that will run for 4 years. The duration of these 4 years will be further divided based on the semester system. The Students have to attend 8 semesters of regular full-time college courses that they have to attend in college.
Course Basics
The basics of the Bachelor in Animation course is a 4-year course divided into 8 semesters. Each semester will last for 8 months where you have to study from the basic to advanced levels, and you will be assessed based on the subjects in and practical skills. The assessment will be done based on your course structure, and syllabus that will be taught to you in every semester. 
The initial semesters
The first 2 semesters will be considered the basic semesters where you will be taught the basics of the semesters. Also, the start semesters will be considered as Foundational Semesters where you will be taught all the basics related to the course.
The final semesters
The last 6 semesters are considered the semesters for specialization where you have to take the specialization out of different subjects. The main areas of specialization are visual effects, 3D animation, and 2D animation.
Course strategy
Although the course is rigorous, it is a highly rewarding program. Students have the best faculty at hand to learn from that faculty and also have the most advanced and top-level facilities, that includes high-tech computer labs and advanced animation studios and libraries.
Along with the course structure, the students will be provided with different extracurricular activities like access to different fests promoted by great institutions in Animation from different areas. The activities also include making great connections with one of the top animators in the animation college in Bangalore and other students from the industry.
Advantages of animation course college
There are many benefits of doing a BSC in animation in Bangalore from a great college specialized in this sector that can provide the best course and practical experience for it. Here is a list of all the important advantages you will get from doing this course: 
Getting access to the most experienced faculty who are great experts in this field. 
Get access to the most advanced facilities that include computer labs, animation studios, and advanced libraries.
You get access to great connections to animation events and other types of animation festivals.
You will get the BSC degree after the full extensive specialization of the program.
Topics-wise segmentation in BSc in animation
This program is an intensive course that covers every part of animation and VFX and it can be done in a way to provide complete coverage of all the course structure and practical experience of that field. These include a wide spectrum of topics from one of the bsc animation colleges in bangalore. Those topics are: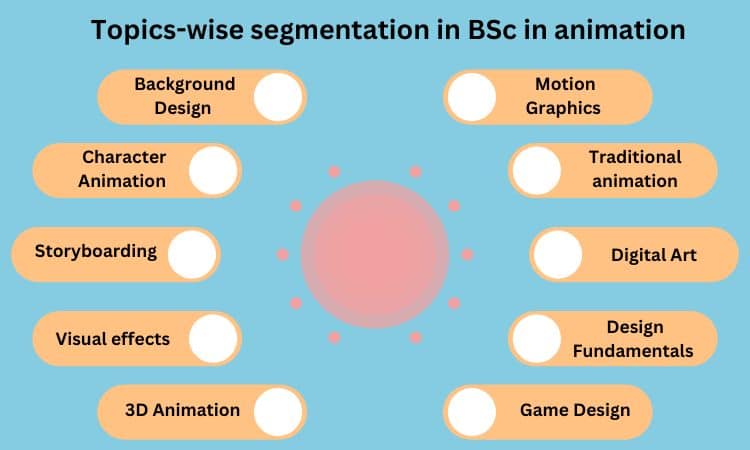 Background Design
Character Animation
Storyboarding
Visual effects
3D Animation
Motion Graphics
Traditional animation
Digital Art
Design Fundamentals
Admission Criteria for Animation College in Bangalore
To apply for the BSc. in Animation and VFX course in Bangalore you have to fill up the pre-application form. This criterion is required if you're passing your 12th standard. You have to apply for the form before the completion of your 12 standards.    
Students who completed the intermediate examination can apply in all the steps of filling out the admission form and submitting the documents for further process for applying in the Best Animation College in Bangalore
Jobs and opportunities after BSC in Animation and VFX
After completing the 4 years full degree course in BSC Animation & VFX, the candidates have a vast array of career opportunities in different fields like VFX, animation, film industries, or gaming industries. Some job role opportunities include being: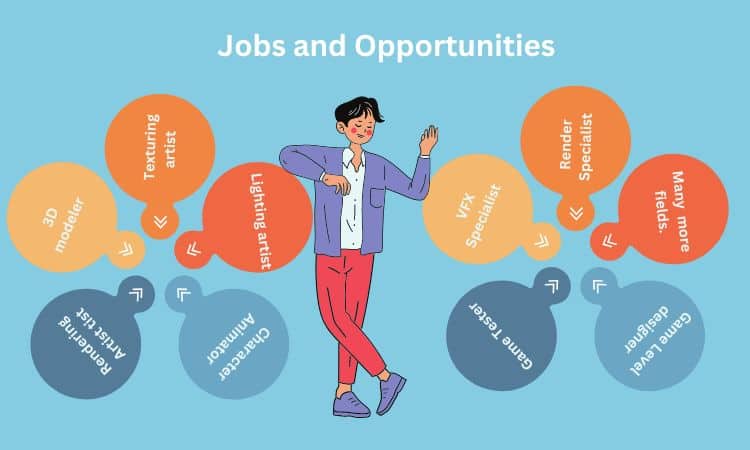 Texturing artist
3D modeler
Rendering Artist
Character Animator
Lighting artist
VFX Specialist
Render Specialist
Game Tester
Game Level designer
And more fields.
There are many opportunities for a candidate to pursue after doing the course from the animation institute in Bangalore. 
Semester-wise Course Contents
Semester 1:
Design language – 1 (Theory)
Design Fundamentals -1 (practical)
Drawing Fundamentals – 1 Digital Fluency (Practical)
Health and Wellness
Yoga
Language -I
Language – II
Semester 2 :
Design Language – 2 (Theory )
Design Fundamentals – 2 (Practical)
Drawing Fundamentals – 2 (Practical)
Environmental Studies
Open Elective (OE)
Sports
NSS/NCC/Cultural/ R and R (S and G)
Language -I
Language – II
Semester 3:
Animation Foundation –
Art of Animation -1
Fundamentals for Computer Graphics
Finance Education and IA/ AI
Sports
Constitution of India
NSS/NCC/Cultural/ R and R (S and G)
Language -I
Language – II
Semester 4:
CGI Foundation for 3D
Digital Animation – 3D and 2D
Art of animation – 2
AGA – E
Skill Enhancement – II – AI
Sports
NSS/NCC/Cultural/ R and R (S and G)
Language -I
Language – II
Semester 5:
Script animatic, Pre-production
Character Animation
BG Design and development
AGA- E
Open Elective
UX/UI, Skill Enhancement
NSS/NCC/Cultural/ R and R (S and G)
Semester 6:
Post Production
Character development and design
Game Art
AGA – E
Open Elective
Professional Communication
Sports
NSS/NCC/Cultural/ R and R (S and G)
Semester 7:
Specialization Major – 3D CGI/ VFX/ Animation/ Preproduction
Graduation Project – 1st Part
Portfolio Development
2 Open Elective
Animation Design plus Development
Semester 8:
Graduation Project – 2nd Part
Industry internship
Conclusion
Going into the BSC in Animation from Bangalore is a great opportunity to convert your passion into your profession and further build a proper career as an Animator or VFX artist and much more. Animaster Design College is providing a full-fledged 4-year BSc in Animation and VFX. Take this opportunity now and shine bright in this field.