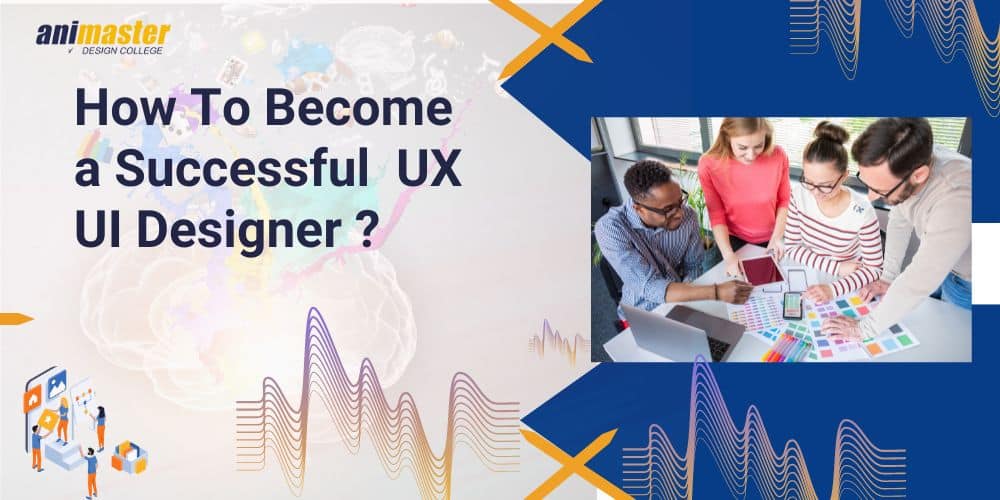 How To Become a Successful  UI UX Designer and what Skills are Required to Become a UI UX Designer?
Introduction
A favorable user experience that motivates customers to remain with a brand or product is the goal of UX UI design. The UI designer determines the user interface's appearance, whereas a UX designer determines how it functions. This article covers all the necessary steps to become a UI Designer and UX Designer as well as other important subjects linked to the UI UX industry.
Organizations must change from product-centric to customer-centric thinking if they want to prosper in the market today. In order to understand customer wants, businesses must employ data and UI/UX design principles rather than simply releasing what they believe people would find appealing. UX designers are in great demand inside businesses, along with graphic designers and creative directors. Candidates with experience in UI/UX design on their resumes have an easier time being shortlisted for jobs in a variety of sectors.
What Is UI Design ?
For digital goods intended for wide public usage, user-friendly user interfaces are crucial. User interface design describes the appearance and feel of the user interface of an app or website. Digital iconography's aesthetics should be taken into account, as should their presentation on a website and their interrelationships. Features like typefaces, colors, images, buttons, and menus are all part of interface design.
Together, these design choices help users understand what may be clicked, touched, or swiped as well as which button in the group is the most important.
What Is UX Design ?
User experience design, or UX design, is the process through which design teams create products that fulfill a company's brand promise while giving customers valuable user experiences.
To guarantee a great user experience, all facets of the product's design and usability must be taken into account. A UI Designer and UX Designer various duties include gathering information and comprehending user requirements.
When creating a product that offers a great user experience, the entire process of buying, using, and even troubleshooting it is taken into account. User experience (UX) design generally strives to provide a pleasurable and efficient customer journey that allows the user to accomplish their intended results.
User experience (UX) designers perform usability tests, research how users interact with goods and iterate on their ideas in response to this feedback.
What Do UX Designers Do?
A UX Designer is in charge of all facets of a product's development, including design, usability, and functionality. Their job revolves around users' whole interaction with a product, which includes identifying potential customers for both the product and the business.
It should come as no surprise that UX designers work on a diverse variety of projects and for a diverse range of organizations given their vast reach. One survey found that there are more than 200 different job titles and a wide variety of responsibilities in UX design.
A UX designer's duties may include user research, persona creation, information architecture (IA), wireframing, prototyping, and high-fidelity design, as well as user testing.
Skills Required to Become a UX Designer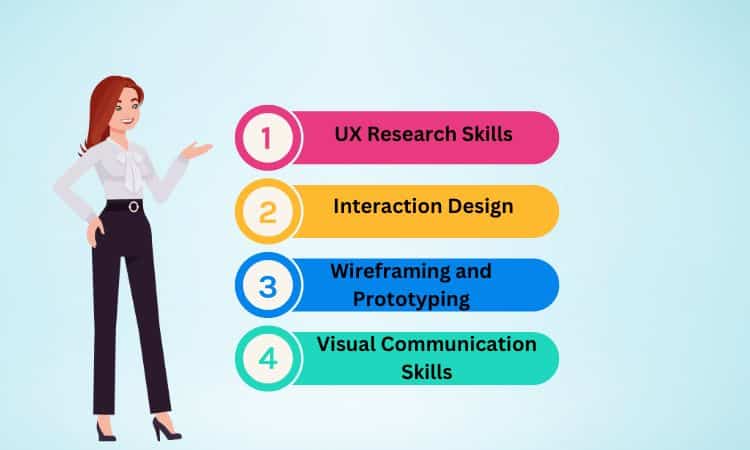 UX Research Skills
User experience initiatives require researchers and analysts that can gather and analyse both qualitative and quantitative data about their topic.
User observation in the real world or in a controlled testing environment, distribution of surveys, and focus groups are some of the research techniques employed.
Interaction Design
For digital goods intended for wide public usage, user-friendly user interfaces are crucial.
Aesthetics, motion, sound, and the actual environment in which a product is used are just a few of the variables that might affect how a consumer uses a product. You must pay close attention to screen structure, information access, and user flow.
Wireframing and Prototyping
A wireframe is a graphic depiction of a website's page layout. User interface and user experience (UI/UX) design decisions on which elements should be revealed and which should be concealed, as well as where and how they should be visually displayed, are the first step in creating a successful user experience.
Drawing diagrams of UI components like menus, CTA buttons, and graphics is a need. After the wireframes have been approved, mockups, or early iterations of a product, are created to test an idea or technique.
Visual Communication Skills
Visual design is more than simply how a website looks and feels when it comes to user experience.
When you picture a standardized user interface component, consider the playback button or even the hamburger menu. Everyone who sees these icons understands that they may be clicked on and what they signify.
What Do UI Designers Do?
The UI design discipline includes the creation of user interfaces. The user interface of an app, website, or piece of software affects the user's initial perception of it. Similar to a web designer or a graphic designer, this is a type of visual designer.
UI (User Interface) Designers are designers that specialise in user interfaces for digital products including websites, applications, and other digital media.
UI designers use the same human-centered methodology as UX designers. A UI designer's main goal when creating user interfaces is to ensure that they are both attractive and intuitive (i.e., that users can easily navigate around them without having to think too much about what they are doing). Customer views of a brand are influenced by user interface design (UI).
Skills Required to Become UI Designer
The best user interface designers need to possess a few key qualities. Before applying for a job, make sure you have the following skills and qualities: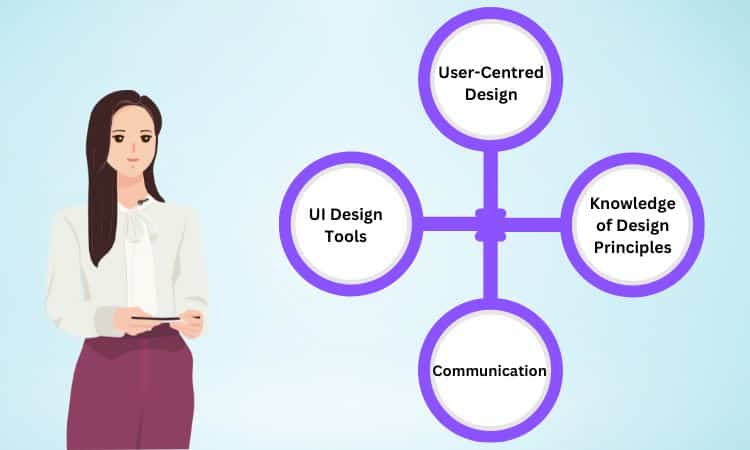 User-centered Design
Regularly creating fresh, interesting ideas is what designers do for a living. Additionally, creative answers that push the limits of design aesthetics while addressing consumer needs should be searched for.
UI Design Tools
Any designer must have a working understanding of UX/UI design software like Adobe Illustrator, Adobe Photoshop, Figma, Proto.io, Sketch, Adobe XD, and Invision Studio.
Communication
For the most part, UI designers collaborate in teams to create final products. They must thus possess great verbal and interpersonal communication abilities. Clients, programmers, and other members of the design team should be able to understand your design concept.
Knowledge of Design Principles
Understanding design principles is crucial for UI and UX designers. When you adhere to these tried-and-true principles, designing a website, piece of software, or other product is simpler. There will also be a need for other ideas like color theory.
How to Become a UI UX Designer
In the beginning of their careers, the majority of excellent UI Designer and UX Designer are self-taught. What steps should you take to learn how to design aesthetically appealing digital products for your personal use?
Because there are so many alternatives, there isn't a single right or incorrect technique to study UI/UX design. The only things that will bring you there are design theory and practice.
Let's examine the procedures you must complete to become a UI/UX Designer.
Education and Certifications
Get a formal education first from the Best Animation college in bangalore, such as graphic design, interaction design, or user experience design. Courses and degrees in these fields are offered by several institutions, universities, and online platforms. Additionally, to boost your profile's credibility, think about obtaining credentials like the Certified Professional in User Experience (CPUX) or User Experience Design Professional (UXDP).
Invest in the Appropriate Design Software
Learn how to use design software that is considered industry standard, such as Adobe XD, Sketch, Figma, and In Vision. You may rapidly develop mockups, wireframes, and prototypes with the aid of these tools, which are extensively used in the UI/UX design community.
Create a Work Portfolio
Start compiling an extensive portfolio to display your abilities and projects as you study and get experience. Include a wide variety of pieces that demonstrate your prowess in user research, wireframing, prototyping, and graphic design. Prospective employers and clientele will be impressed by a well-curated portfolio.
Acquire Hands-on Work Experience
To get real-world UI/UX design experience, look for internships, freelancing work, or entry-level roles. Real-world projects will offer priceless insights on cooperating with teams, working with customers, and overcoming various design problems.
Conclusion
A combination of creativity, technical know-how, and user-centric thinking are required to become a successful UI Designer and UX Designer, making it a fascinating and rewarding path. Animaster, a reputable name in design education, provides thorough programmes in graphic design, interaction design, and user experience design that equip prospective designers with the information and abilities they need to succeed in this cutthroat business.
Aspiring designers may pave the route to a prosperous career in UI/UX design by taking admission into Best Animation college in Bangalore, which include receiving a formal education, investing in industry-standard design tools, developing a strong portfolio, and earning practical job experience. Additionally, developing key abilities like UX research, interaction design, wireframing, prototyping, and responsive design can help them stand out as accomplished designers.
Read More: 5 Reasons to Choose Animation College in Bangalore for a Successful Career
FAQs
Ques: Is UX UI design a good career?
Ans: Yes, UX/UI design is a promising and fulfilling career choice.
Ques: Is coding required for UI UX?
Ans: Coding is not always required for UI/UX design, but having basic coding knowledge can be beneficial.
Ques: What programming language does UI use ?
Ans: UI designers typically use HTML, CSS, and JavaScript for web-based interfaces.
Ques: Is the UI front-end or back-end?
Ans: UI is part of the front-end development that deals with the user interface and user experience.
Ques: What is the average salary of a UI UX Designer?
Ans: The average salary of a UI/UX designer varies by location and experience, but it's generally competitive and attractive.