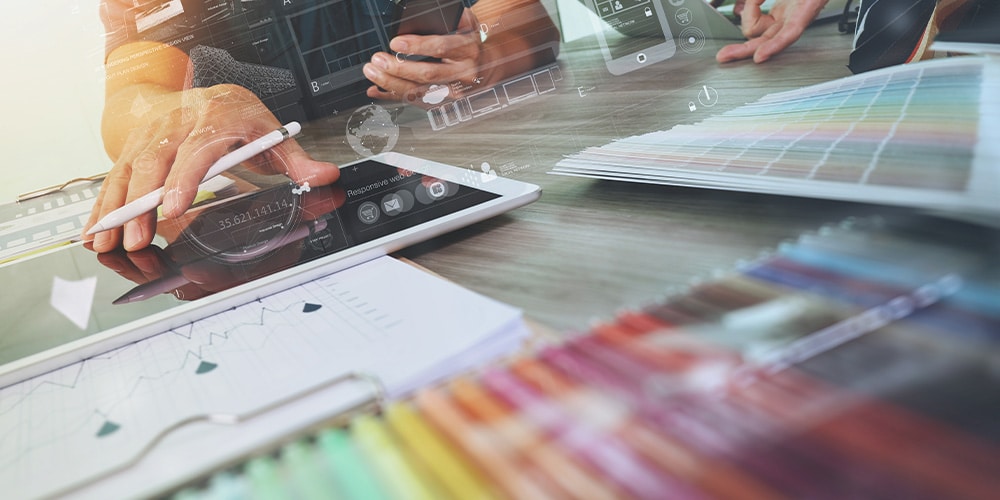 The Anatomy of UX Designer
This professional ensures that the interaction between people and digital products is optimal. To train as such, it is recommended to have notions of design and programming. Animaster being the best graphic design college in Bangalore, always tries to provide quality education to the students which can increase their possibility of a good future.
This professional ensures that the interaction between people and digital products is optimal. To train as such, it is recommended to have notions of design and programming. Animaster being the best graphic design college in Bangalore, always tries to provide quality education to the students which can increase their possibility of a good future.
The interaction that human beings have daily with the existing information systems in computers, tablets, mobiles, and various technological products has caused that, in the world of technology, research, business, and design, it has been increasingly granted importance to the so-called User Experience (UX by the acronym of User Experience). It refers to all those aspects related to interaction with the user (regardless of the device) and includes not only the design but also the visual aspect, the quality of the contents, the factors related to emotions, feelings that build the brand, as well as the trustworthiness in it.
Therefore, a User Experience Designer (UX Designer) is a professional who is in charge of ensuring that the perception and feelings that the use of a product or service leaves in people's minds are optimal from any point of view: ergonomics, ease of use, efficiency, etc. It defines the means, processes, and ways in which people interact with those objects or information systems. That is, UX refers to what, when, where, why and how a person uses an object, product, or accesses a service, so it can be said that the UX Designer is in charge of everything that affects the interaction or dialogue of a person with a system.
Why are companies in Bangalore looking to hire an expert UX designer?
Currently, companies are aware of the importance of putting the customer at the center of their strategy and therefore they need to have professionals in User Experience capable of aligning business objectives with the needs of their clients, so it is a multidisciplinary profession of great relevance to organizations at a strategic level.
The profession of "UX Designer" has quickly become one of the most in-demand jobs in the technology industry. It is not surprising. There are many best graphics design colleges in Bangalore that have understood the need of the market. The necessary creative skills, high flexibility in job projection and high salary make this position desired by many professionals.
Considering these characteristics, there is no doubt as to why you should study this degree. However, understanding what it means to be a UX Designer is not that simple. But do not worry: we have summarized for you the most important information to start successfully in the world of UX Design.
What exactly is a UX Designer?
The UX Designer is responsible for the User Experience and therefore, that the experience of a product is consistent with its application. Its function is to design a user interface that allows the customer to explore a product from start to finish.
To do this, the UX Designers use a variety of programs such as Photoshop, Sketch or Illustrator to create storyboards, wireframes, models, and sitemaps, and thus be able to check the result with real users.
What's the difference between UX Design and UI Design?
UX Design and UI Design are closely related and often in companies are united in a single area of ​​work. In effect, these are processes that overlap, but in any case, they are different. While UX Designers focus on the user experience, and thus the user's journey through the many product interfaces, the focus of the UI Designer is user interaction with the elements and visual references of the product.
Take for example their roles in car design. UX Designers must ensure that the overall driving experience, i.e. visibility, seating, driving, and parking, is positive for the user and therefore logical, intuitive and enjoyable. In contrast, the UI Designer ensures that simple driver-vehicle interaction is possible, that each knob has an understandable icon, and that functions do not interfere with each other, among other things.
What are the characteristics of a great UX Designer?
Often the UX Designer comes from the most varied sectors, however, for this profession some characteristics must be considered:
Passion
A true attraction to design and the way things work is the premise for a compelling product presentation.
Empathy
To organize and offer great products, users' wishes and potential frustrations must be understood. Only those who can understand the cases applied to the reality of a product will be able to produce something that truly generates a unique user experience.
Modesty
The UX Designer always works in collaboration with different departments, users, developers, managers, and diverse personnel. Likewise, it is necessary to know how to accept and accept certain comments from all the parties just mentioned.
Initiative spirit
It is necessary to improve and be able to work independently in various fields. In this way, our personal UX Designer portfolio will be created, which will greatly simplify our entry into the world of work.
Love of technology
Opportunities to experience the product are continually expanding. Only those who are interested in technology and are always up to date with the latest news will find their vocation in this profession.
If you feel that you have all the characteristics that we have just described, you fulfill the best conditions for a long successful career.
How to become a UX Designer?
Interest in UX Designer training or work has increased exponentially in recent years. Most of the interest comes from technical studies graduates and graphic designers, who want to give a boost to their career, but also from those who work in the advertising field, such as Creatives. The good news is that the demand for UX Designers is extremely high right now and there is room for everyone.
However, if you are starting your career in the sector with little or no experience, we cannot guarantee that it will be easy. Even companies desperately looking for a UX Designer prefer candidates who have the necessary knowledge and a significant portfolio of UX Design projects. What can you do? Look for the best BSc animation colleges in Bangalore to start learning about the advanced level of UX design. 
1. Read and learn
Learn about the User Experience, chat with the experts, listen to industry podcasts and above all, read!
The masochist's coffee pot. The psychology of everyday objects
This book by Don Norman, former director of the University of California Institute of Cognitive Sciences, provides insight into how and why some products excite customers, while others cause frustration. It is not only about the projection of computers and software, but also banal objects, such as chairs and tables. After reading it you will have a completely different vision of the projection of all the things that surround you in daily life.
2. Smashing UX Design
This is a highly respected and highly recommended User Experience reference manual. It offers a detailed overview of the 16 most commonly used research and projection instruments for user experience and a compilation of case studies from real projects that explain why some techniques have been used in certain circumstances.
3. Don't make me think
This book by information architect and user experience professional Steve Krug became a "classic" in 2000 and is still considered one of the most important books on web usability. Other UX Design books have been written from this book, which is quite convincing proof of its validity. Since then Krug has published a second edition and also an update titled "Don't make me think. Upgrade".
There are many other books that we recommend reading on the projection of the user experience, but to start we recommend these three classics, in addition to the books, there is also a practically inexhaustible source of UX Designers blogs, podcasts and articles that you can visit during your free time.
3. Find an experienced mentor
On the way to becoming a UX Designer, you will constantly come up with new questions. So it is necessary to meet an expert mentor. But where can such a person be found?
First of all, your goal should be to become part of the UX Designers community. Search meetup.com for local UX events and create the first contacts. Even the most experienced professionals have had to start from scratch. Don't be afraid to start a conversation and ask for advice!
4. Discover the most important instruments
Layout, prototyping, wireframe, responsive web design, and much more – extensive knowledge of software is the foundation for your success as a UX Designer. We give you a brief overview of the main User Experience instruments.
5. Wireframe sketcher
Wireframesketcher is a wireframe instrument that can be used together with designers, developers, and product managers to create wireframes, models, and prototypes for desktop, web, and mobile applications. It is a desktop application and a plug-in for any Eclipse IDE.
6.InVision
InVision is the world's most popular prototyping instrument. On the InVision project management page, you can organize the design components in a Workflow Status. You can define the columns for the activities and move the components of the design by dragging and dropping in the corresponding column. It can work with different types of documents, including JPG, PNG, GIF, AI, and PSD. InVision also has pushed and pulled integrations with apps like Slack, Dropbox, Box, Trello, JIRA, and many more.
7. Adobe Experience Design X
With Adobe XD it is possible to create, reuse, and re-mix vector and image material, to create wireframes, screen designs, interactive prototypes, and elements ready for production in the same application. A great advantage is a possibility of integrating other Adobe products, such as Photoshop or After Effects.
8. Sketch
Sketch in many ways is similar to Photoshop, but it also has some very practical features. Sketch vector shapes can easily adapt to changing styles, dimensions, and designs to save you a great deal of time in manual adaptations. Sketch's fully vector-based workflow makes it easy to create attractive, high-quality designs from start to finish.
9.Dribbble
Dribbble is described as the homeland of the world's best designers and offers a virtually endless selection of creative storefronts and visual design options.
10. Start your training
A good UX Design course will prepare you to handle the main concepts, tools, and resources of UX Design and allows you to carry out exercises in a practical environment.
Under the guidance of Animaster College, a student can achieve quality education in the field of design. If you think this is your kind of field then getting a degree in graphic design won't be a bad idea. There are also many short term courses in graphic design which one can opt. This on demand career has vast possibilities. Come explore the career in UX design.
Animaster is one of the professional colleges offering the best Animation Degree in Bangalore. Get in touch with the experts and our counselors today to enroll in the Bsc visual communication degree course. 
Read More : How To Become a Successful UX UI Designer and what Skills Required to Become UI UX Designer?