Advantages and Disadvantages of Graphic Design
Magazine covers, newspaper pages, packaging and advertisements on buses are just some of the projects graphic designers work on. They consider visual elements as subtle as white space and typography, and as attractive as interactive web pages. People with artistic talent and computer skills often make successful graphic design careers. Animaster is listed in the top graphic design college in Bangalore and has always come up with articles that can give insights on the career a student wants to opt for. There are pros and cons for all careers and an aspiring designer must consider the advantages and disadvantages of Graphic design.
Introduction
The art of graphic design involves organising visual components to convey concepts or thoughts. To convey ideas or messages that affect our perceptions, graphic design employs textual and visual components like typography, photography, iconography, and illustration. Typography, colours, forms, and pictures are some of the instruments that are used. Media of all kinds, including print and digital, use graphic design. Motivating and educating consumers is the aim of good graphic design.
Graphic Design Classes in Bangalore help you to make businesses to brand themselves, by websites to present complex information in an understandable way through infographics, or by enterprises to advertise and sell items through advertising, among other things.
Importance of graphic design in various industries
Providing a variety of advantages and enhancing corporate success, graphic design is essential to many different industries. In order to emphasise the significance of graphic design in many industries, consider the following main points:
Developing a powerful and recognisable brand identity requires the use of graphic design. The personality of a brand and the creation of a unified image that appeals to the target market are both shaped by logos, typography, colour schemes, and other visual components.
Visually appealing and simply understandable graphic design is a key component of effective communication and messaging. In order to make the content easier for the audience to understand and retain, complex ideas can be made simpler and crucial information can be highlighted through intelligent design.
Marketing and advertising strategies often make effective use of graphics. Designs that catch the audience's attention can do three things: they can communicate the intended message, and they can affect the audience's purchasing behaviour. Graphic design enables companies to explain their services clearly and set themselves apart from rivals through everything from print ads to internet banners.
In the modern world, every company needs a polished website that is also attractive to the eye. Layouts, typography, colour schemes, and photography are graphic design components that help create a website that is appealing to users and true to the brand's identity. A strong online presence can be developed by maintaining design consistency across different online channels.
Print media still has a significant role in many industries, despite the development of digital media. From brochures and business cards to posters and magazines, expertly designed print materials leave a lasting impression and efficiently communicate information to a targeted audience.
Graphic design is a potent tool for telling stories visually. Complex narratives can be streamlined and made more interesting by adding visual components like pictures, infographics, and animations.
Advantages and Disadvantages of Graphic Design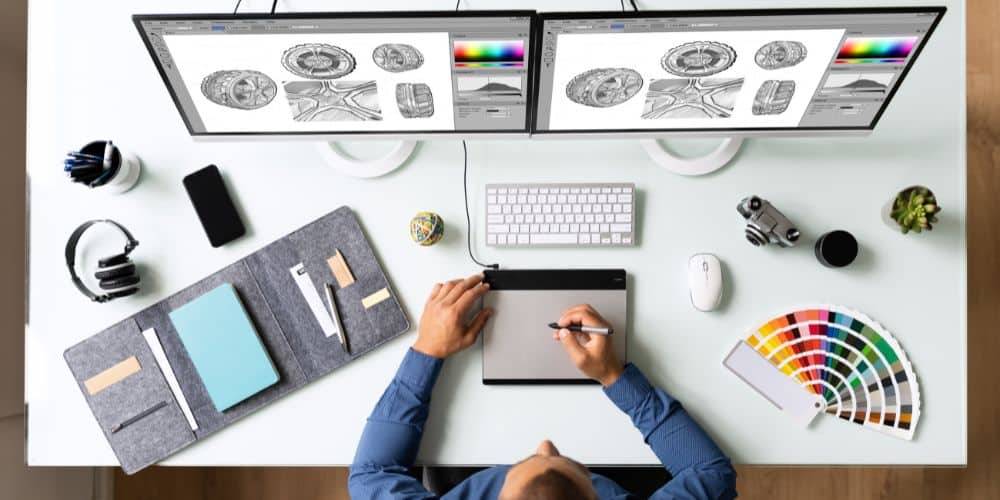 Advantages of Graphic Design
Possibility of creativity
On behalf of their clients, they experiment with fresh concepts and ideas. Their objective is to provide striking designs that will not only be attractive to the sight but will also assist their clients stand out from the crowd. A graphic designer's career involves a lot of imagination and making things, so you might appreciate it if you like doing that.
Potential for remote work
Even if they are employed by another company and are not independent contractors, graphic designers may be able to work remotely. This is due to the fact that computer tools are used extensively in contemporary graphic design work.
Possibility of success
The advantage of finishing a project and seeing it finished belongs to graphic designers. A finished website or some product packaging are frequent examples of how graphic designers can put their labour of love on display.
Numerous options for employment
Graphic designers are required by numerous businesses. This indicates that there are several options for graphic designers to work in industries that interest them. Additionally, graphic designers may choose to work both for themselves and for an organisation. Since so many graphic designers work for themselves, they have some discretion over who they choose as customers. For many graphic designers, having the freedom to select their own clients and working hours is a huge perk.
Disadvantages of Graphic Design
Fewer chances for promotion
There are few chances to advance your career as a graphic designer. Graphic designers can still raise their wages throughout this time even if many of them spend many years in the same profession.
Must fulfil client requirements
Graphic designers frequently have to choose designs based on customer requirements rather than their personal tastes. The graphic designer may end up producing something they are less proud of as a result of this, which restricts some of their creative flexibility.
Choosing the Right Graphic Design Course
There are various things to take into account when selecting the best graphic design course in Bangalore. To assist you in making an informed choice, consider the following essentials:
Look for a graphic design course in Bangalore that includes a wide range of graphic design topics, such as typography, color theory, digital illustration, branding, user interface (UI) design, and software skills. A thorough understanding of the principles and methods of graphic design should be provided by the course.
Accreditation and Reputation: Take into account programs provided by recognized colleges or other training facilities with a solid background in graphic design instruction. The course must adhere to a set of quality requirements in order to be accredited; therefore, it can potentially have a significant influence.
Study the course's teaching strategies by doing some research. Finding courses that offer a good balance between theory and practice is important for developing your skills as a graphic designer.
Professors and instructors: Learn as much as you can about the training and expertise of the instructors who will be guiding the course. Aim to enroll in courses where the professors have the relevant industry knowledge and graphic design expertise.
Consider your availability and schedule when selecting a course based on flexibility and duration. Examine the course's duration to see if it fits with your learning objectives and schedule.
Read former students' feedback and recommendations to get an understanding of how they felt about the course. Additionally, you might ask experts in the graphic design field for recommendations.
Conclusion
The creation of strong brand identities, facilitation of efficient communication, support of marketing strategies, improvement of online presence, and visual storytelling are just a few of the critical roles that graphic design plays in a variety of industries. Examining course content, accreditation, instructional strategies, faculty qualifications, flexibility, and student comments is important when selecting the best graphic design program.
FAQs
Q.1 Can anyone become a graphic designer without formal education?
Ans. It is possible to become a graphic designer without a formal degree, but it is crucial to gain the necessary knowledge and experience.
Q2. How long does it take to learn graphic design?
Ans. Although the length of time needed to Learn Graphic Design varies, it usually takes several months to a few years of commitment to the subject.
Q.3 What are the career prospects in graphic design?
Ans. Numerous industries, including marketing, advertising, web design, and multimedia, have a strong need for graphic designers and offer opportunities for growth and creativity.
Q4. How does graphic design impact marketing and advertising?
Ans. Graphic design improves visual communication, draws attention, communicates brand messages, and shapes consumer perception, driving successful marketing and advertising campaigns.