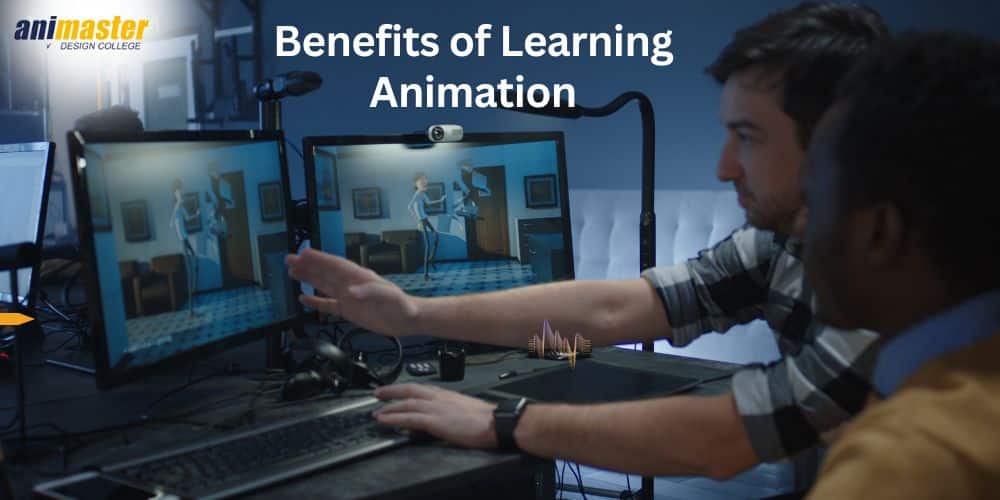 Benefits of learning animation: In an era where everything is digital and the world is super fast-paced, the one thing that stands out is animation. Animation is a field that is truly captivating and also a multifaceted domain that is attracted by creative souls. If you are the student that is on the seamless blending of all the artistic and along with many other aspects.
Animation is not just about drawing cartoons and creation of the cartoons or drawings. It is also not just for creating video games. The art of animation is truly a versatile form that can be worked in different industries, from advertising to film to healthcare to education. If you are looking for the best animation courses in Bangalore or anywhere or for more details, we will discuss everything here. 
The creativity
Animation is a true open canvas, where the imagination can run free and wild. It will help you to bring it closer to the entire world that's imaginative and can help create a world that's in your imagination.
Whether you have a passion for storytelling visual effects or character design. Whether you want to create an imaginative character or a full imaginative universe with the best animation courses you have the option to create anything. The only thing that's stopping you is your imagination.
Great demand for animation jobs
The industries that are related to animation or that need animation are booming. Thus, there is a big demand for highly skilled animators. From different TV shows to different movies to video games and advertising, everyone relies heavily on animators to captivate the audiences.
If you look at India, one of the best places that are booming with new skills is Bangalore. Pursuing a great, best degree animation course in Bangalore can provide the best skills.
Different career opportunities
The advantage of animation is that Animation is not connected to one field. It has a vast scope that can expand to gaming, the film industry, TV shows, Movies, marketing, and advertising along with different verticals like healthcare as well.
You have the option of becoming an animator, a character designer, or just a storyboarding artist, or an animation educator. The different types of diverse fields ensure that you can find your niche and work accordingly for the different areas of it.
Technological Proficiency
In today's era, animation has become the main forefront of technological advancements. Learning the different levels of animation helps in providing the state-of-the-art tools and software that are utilized across different industries and sectors.
These skills are not just transferable for different purposes but these are also highly marketable as well. Through this kind of marketing, it provides an opportunity to open doors for different career opportunities. 
These career opportunities are wide and provide great levels of career for animators and VFX artists. These are not just on the level of animation though but expand far beyond it.
Teamwork and collaboration
Most of the projects regarding animation are greatly collaborative and provide for highly specialized teams and good workplaces. As a good animator
You will be collaborating with the different animators and designers or collaborating with the writers, programmers, and musicians as well.
This provides an invaluable experience that helps with enhancing the ability to work effectively with different multidisciplinary teams and provides for a highly productive environment.
Detailing and problem-solving
To even do a small project in animation, that has only a small amount of animation, requires deep detailing and highly meticulous details. Not only that, you also need higher levels of problem-solving skills.
You will develop new abilities while starting to work with different teams and different areas. You will develop deep precision and patience along with the abilities to solve deep and complex challenges, the qualities that are required for any great professional setting.
Global reach
Animation provides for a truly global outreach. It has an outreach that transcends all borders. Animation has a special advantage too. It can reach all borders and different languages too.
By mastering the field of animation you can become a greater part of the whole world community, where you can work with the global community and contribute or handle multinational projects. This helps you to connect with people with different cultural backgrounds and languages.
Personal Fulfillment
This is one of the most important points. The point of personal fulfillment. Witnessing the ideas that will be true to life is gratifying and a great experience. Animation is the most satisfying career prospect that can bring you joy and fulfillment. In the field of animation, personal fulfillment is a gratifying aspect when you are working on different projects even on basic levels or international levels.
The most gratifying aspect is when your creative idea and your creative imagination come into animated form and other people can see it. This is a great aspect that fulfills somebody.
The Animaster in Bangalore
If you are inspired to embark on this wonderful journey of animation, Then Animaster, the best animation academy in Bangalore is a truly prestigious institution that provides the best in class animation degree courses in Bangalore and it's inspired to bring real talent in animation to the world. Here's why Animaster  deserves the attention it needs: 
Experienced Faculty: From getting industry experts to highly experienced professionals, Animaster is truly passionate about guiding and mentoring students toward a true success measure in the industry.
Best-in-class facilities: The animator provides with highest quality access to best-in-class technology to prepare the students for the highest level world-level animation projects.
Comprehensive courses: From 2D to 3D and visual effects along with the game design, Animaster provides a tailor-made program for students with specific needs.
Deep industry exposure: Animaster collaborates with the best animation studios and others to provide collaborations and internships to provide the highest level of skills.
Best alumni network: The graduated candidates from animaster have shown remarkable success stories in their career fields.
Animaster provides the best future career scenarios that provide true artistic and creative fulfillment. These are the benefits of pursuing the field of animation and provide a lasting skillful career through Animaster. 
Read More: 5 Reasons to Choose Animation College in Bangalore for a Successful Career