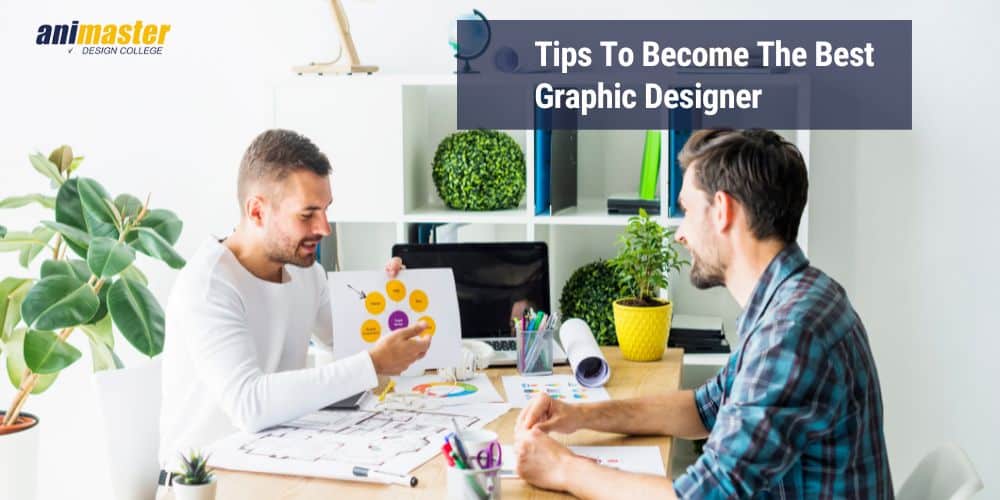 In the present age of digitalization of which we are part, you all must be aware of how much the demand is growing at a great pace for a variety of digital products by small to large-sized companies. This implies that the job of such service providers is to achieve great heights as per the current market scenario.
Similarly, there is one such hot genre of digital product that says everything with its tactical and eye-catching visuals i.e. 'graphic designing'. If we talk about both the present and prospects, the need and demand. Professional graphic design solution providers are rising at an unimaginable rate and the same is true for the next 5 years.
Hence, this article will give you all the desired information about the entire valuable scope of graphic design course in Bangalore so that you can also acquire this high-value service and excel in this field with ease having proper information about everything to start with.
Who is a Real Graphic designer? 
The ultimate key to mastering the art of graphic designing is to reap the maximum out of this trendy and quirky solution-oriented service. The best approach is to learn and work on this skill with your own hands and creativity. After understanding the basic mechanisms and tools by doing a certificate (course) in graphic design to be used you should focus on creating mesmerizing and case-based visuals that are a solution to a company and convey all the textual form in a quirky way.
Now, let's look at some of the significantly crucial points that you must be aware of at this point to enter into an arena of real graphic designers:
Relevant know-how about tech– Before even the creativity aspect enters the discussion, having a satisfactory knowledge about tech-based things like the software to use like Illustrator, InDesign, Photoshop, etc. is something to start with.
Reflecting ideas into visuals– The main task and artistic view that must be developed within a graphic designer so that they successfully communicate what exactly the company wants to depict by breaking down the text into an easy format and presenting the same in a beautiful eye-catching representation.
Dynamic design adaptability– Now, any designer must know that you won't be getting and dealing with similar kinds of projects by your clients. Hence, one must possess the ability to adapt the dynamic styling and methods of working on several kinds of designs without any hesitation.
So, a wise portion of all these three skills can fill the pot of your graphic designing ability with elixir. To understand and practice such steps or methodology of this genre a diploma in graphic design will help.
Tips for Graphic Designers
1. Study design fundamentals
Studying design fundamentals is a very important step towards choosing the best graphic designer for your project. By understanding the concepts such as design, color theory, visual hierarchy, etc. you will be better equipped to understand the designer's work.
2. Regular learning
Regular learning is a paramount practice that motivates graphic designers to improve their craft and remain attentive to the dynamic design landscape. One can learn regularly with the help of online graphic design courses available on the internet which also makes you confident in your work.
3. Master your design tools
Mastering your design tool is a necessary tip for graphic designers. Expertise in software like Adobe Creative Suite and other design software helps you enhance your creativity with efficiency and precision. By deeply understanding the capabilities and shortcuts. These tools help you to smooth your workflow.
4. Practice regularity
Being in regular practice can help you to improve your journey as a graphic designer. One should keep consistency in practice that improves your skills, and techniques and also helps you to explore new approaches. Regular working on projects can help you to develop your problem-solving skills.
5. Refine your skills with a graphic design course
Participating in a graphic designing course can help you to improve your skills which can be very beneficial. There are many types of courses such as full-time, and some courses also provide you with customers. A diploma in Graphic Design is also a very good option for those who want to enhance their expertise and learning.
6. Experience
Experience is a valuable tip for graphic designers who aim to improve their craft. Besides the theory knowledge of principles of design, real-time knowledge provides a learning ground where designers can know their actual skills.
7. Analyze design trends
Analyzing design trends can be an important tip for graphic designers that helps to elevate the craft. By observing emerging styles, and visual factors designers can gain fresh observations that add innovations to their work.
8. Subscribe to design blog
Subscribing to design blogs can be a valuable tip for graphic designers that enhance their skills. These blogs act as a regular source of industry updates, and patterns and also make sure that the designers are well informed about the upcoming developments.
9. Collaborate with skilled designers
Collaboration with skilled designers provides a unique platform for sharing knowledge, it also enables designers to go into different design approaches and methods. Working with individuals from different backgrounds and styles elevates one's work.
10. Review your work before you submit
Reviewing your work before submitting can significantly impact the quality of your output. By adapting this habit to your design process, you can make sure that your work is appropriate and covers all the project objectives.
11. Ask for feedback and critiques
Inciting external observations on your work can provide you with more ideas and also places for improvements that might be otherwise ignored. Criticism offers a lens that helps to view your design, discover issues, and increase overall impact.
12. Learn from mistakes
Learning from mistakes can help graphic designers to improve themselves and also increase their growth. One should see these mistakes as an opportunity that shifts the focus from failure to growth and increases the potential of graphic designers.
Choose an animator for your guidance to become the best graphic designer
Animaster provides you with a strategic roadmap that can give you a way to a successful career. Animaster graduates are enthusiastic to navigate a change from animation to graphic design in Bangalore. It improves your storytelling power and provides you with sufficient graphic designer skills. Start by immersing yourself in crucial design principles, color theory, compositions, and visual hierarchy that will make your graphic design journey. Getting adequate knowledge of graphic designing tools such as Adobe Illustrator photoshops allows you to develop your creative insights efficiently.
A few benefits of choosing Animaster as your guide to becoming a graphic designer are as follows:
Enhance animation skills
Knowledge of design tools
Knowledge of design basics
Events and connections
Real-time graphic design projects
Local collaborations
FAQs:
Ques1 : How can I master graphic design?
Ans- This is the most frequently asked question among aspiring graphic designers that must be solved with some practically rational points stated above:
Don't forget to start with the basics and learn the application of various software.
Set your hand in this by practicing and preparing a portfolio of various kinds of graphic designs.
Make a habit of taking feedback positively and dealing with it by making improvements consistently.
Be updated with the current market trends to beat the competition and provide the best graphic design in Bangalore.
Last but not least, keep networking with your fellow designers which can create more opportunities for you.
Ques2 : Which stream is best for graphic designers?
Ans- Practically, there is no particular stream that you must have to pursue graphic designing since, it isn't a strict professional course rather it's a skill-based course and all it asks for is passion, ability to design, creativity, and dedication to practice and deal with clients.
However, people do go for a good and worthy certificate (course) in graphic design.
Ques3 : How should a good logo look?
Ans- A logo can be called the 'soul' of a brand as it creates a memorable impact on the consumer's mind after they look at an advertisement or visual marketing of that product or service. A good logo should tick on the following elements with utmost perfection:
Relevancy with the brand
Classy and Attractive.
Easy to understand and memorable.
A good color palette choice.
Should be a little quirky. ( Like it could depict any hidden meaning related to the brand)
Ques4 : How do I brand my logo?
Ans- Creating a brand logo requires a mixture of both creativity and rationality due to which you must keep certain points in your mind quite mindfully.
Understand the guidelines of the brand.
Choose a rational and thoughtful color palette.
Should be relevant to the brand in a quirky way.
Don't forget the trademark rule so avoid copying any existing logo.
Read More: Graphic Designing Scope: Trends, opportunity, and Salary