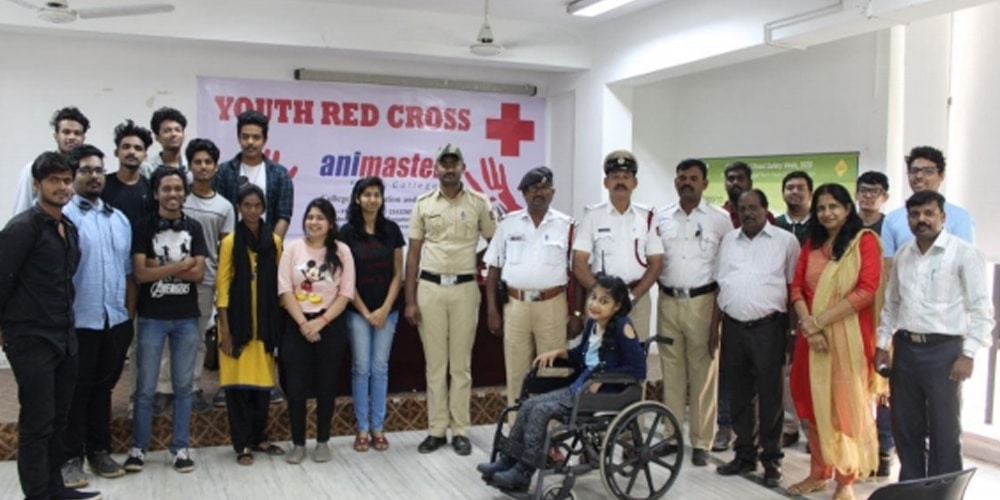 Animaster College YRC Unit organized a Traffic awareness program to bring awareness to the community. The event was organized at the college auditorium, from 11.00 hours to 13.00 hours.
Sri. Narashimhaiah, ASI, Hebbal Traffic Police Station, Bangalore., Sri.Dhananjaiah, ASI, Hebbal Traffic Police Station, Bangalore from Traffic department and Sri. Dilip, YRC Coordinator, and Media In-charge, Indian RedCross Society, Karnataka State Branch, Bangalore was the guest of honor for the event. They were also asked to address the students and the faculty members against the topic.
YRC Coordinator and Media In charger Sri. Dilip explained the YRC history and highlighted the YRC activities and showcased the video to students to get the YRC information.
The Video Presentation continued till 12.00 hours in the auditorium to BCU SEM 2 & SEM 4 Students.
Later after the Video Presentation, there was a speech from the principal of Animaster College Dr. Srinarahari M H.
He also welcomed the Managing Trustee, Ms. Veena Prathap and the Chief Guest of honor, Hebbal Traffic Department.
The stage was given to Traffic Department they started the presentation by explaining Traffic rules, Traffic Fines, Do and Does.
The program was made more interesting by Mr. Nandish who presented the traffic rules combined with magic.
Finally they interacts with the students of Animaster College.
Ms. Veena Pratap management Trustee honored the Guest with a Green Plants and also addressed the students.
The Event ended with a Vote of thanks by YRC officer Dhanaraj. S.